From seafood spots to steakhouses, we have the definitive list of the 50 best restaurants in Philadelphia. Find an upscale or casual restaurant in Rittenhouse, Center City or South Philly — or near you — now.
50 Best Restaurants in Philadelphia
Last updated: December 19, 2018
50 Best Restaurants in Philadelphia by Rank
Suraya
Fishtown
Hungry Pigeon
Queen Village
Friday Saturday Sunday
Rittenhouse
Vernick Food and Drink
Rittenhouse
Laurel
East Passyunk
Vetri Cucina
Washington Square West
Res Ipsa
Rittenhouse
Zahav
Society Hill
Serpico
Bella Vista
Palizzi Social Club
East Passyunk
Andiario
West Chester
South Philly Barbacoa
East Passyunk
Vedge
Midtown Village
Royal Izakaya
Queen Village
Bibou
Bella Vista
Abe Fisher
Rittenhouse
Zeppoli
Collingswood
Noord eetcafé
East Passyunk
Townsend
East Passyunk
Fork
Old City
The Good King Tavern
Bella Vista
Little Fish
Queen Village
Royal Boucherie
Old City
Hardena
Point Breeze
Middle Child
Washington Square West
Cadence
Kensington
Saté Kampar
East Passyunk
Hearthside
Collingswood
Double Knot
Midtown Village
Helm Rittenhouse
Rittenhouse
Perla
East Passyunk
Stock Rittenhouse
Rittenhouse
Southwark
Queen Village
Kensington Quarters
Fishtown
The Love
Rittenhouse
Cheu Fishtown
Fishtown
Russet
Center City
Blue Corn
Bella Vista
Le Virtù
East Passyunk
Rangoon
Chinatown
Will
East Passyunk
Standard Tap
Northern Liberties
Wm. Mulherin's Sons
Fishtown
Poi Dog
Rittenhouse
Kanella Grill
Washington Square West
Mr. Martino's Trattoria
East Passyunk
The Rooster
Center City
Marigold Kitchen
University City
50 Best Restaurants in Philadelphia by Neighborhood
Bella Vista
Serpico (#9)
Bibou (#15)
The Good King Tavern (#21)
Little Fish (#22)
Blue Corn (#38)
East Passyunk
Laurel (#5)
Palizzi Social Club (#10)
Noord eetcafé (#18)
Townsend (#19)
South Philly Barbacoa (#12)
Saté Kampar (#27)
Perla (#31)
Le Virtù (#39)
Will (#41)
Mr. Martino's Trattoria (#47)
Suraya (#1)
Kensington Quarters (#34)
Cheu Fishtown (#36)
Wm. Mulherin's Sons (#44)
Kensington
Northern Liberties
Midtown Village
Vetri Cucina (#6)
Vedge (#13)
Double Knot (#29)
Point Breeze
Queen Village
Hungry Pigeon (#2)
Royal Izakaya (#14)
Southwark (#33)
Rittenhouse
Friday Saturday Sunday (#3)
Vernick Food + Drink (#4)
Res Ipsa (#7)
Abe Fisher (#16)
Helm Rittenhouse (#30)
Stock Rittenhouse (#32)
The Love (#35)
Russet (#37)
Oyster House (#42)
Poi Dog (#45)
The Rooster (#48)
Society Hill
South Jersey
Washington Square West
University City
West Chester
The bar at Suraya | Photo by Michael Persico
Fishtown | Lebanese
1528 Frankford Avenue, 215-302-1900
Even back before it was a destination bar for people who want to experiment with arak and black tea in their cocktails, even when it was just a breakfast and lunch spot with a quirky grocery business on the side, Suraya was really good. Adding dinner was what vaulted it onto this list. But over the past year, the continual refinement by the kitchen, the polishing of every element of service, and the gentle, easy confidence with which any meal here unfolds have made Suraya the best restaurant in the city.
2. Hungry Pigeon
Queen Village | American
743 South 4th Street, 215-278-2736
There's nothing false about the Hungry Pigeon. It puts on no airs. Partners Scott Schroeder and Pat O'Malley cook what they want to cook (or bake, in O'Malley's case) and serve how they want to serve. And what could be perceived as mundane (warm crab dip, chicken and rice) is actually bold—a scruffy, homey, comforting mess of a menu that appeals to Philly's most impassioned lovers of food and drink. 743 South 4th Street.
3. Friday Saturday Sunday
Rittenhouse | New American
261 South 21st Street, 215-546-4232
Friday Saturday Sunday is for beautiful cocktails and mussel toasts; for perfect service and sweetbread katsu. For the most polished dining room in Philly, where Chad and Hanna Williams somehow, magically, transformed a beloved landmark into something that Rittenhouse needed even more: a restaurant for its neighbors, and a bucket-list item for everyone else.
4. Vernick Food & Drink
Rittenhouse | American
2031 Walnut Street, 267-639-6644
Greg Vernick opened his namesake restaurant with no intention for it to be anything other than just a neighborhood spot for Rittenhouse. But as we've all learned, Greg—with his love of fire and char, his worldly palate, his menus that always push New Americanism to new heights—is far too talented to let his restaurant be anything other than a destination. 2031 Walnut Street.
East Passyunk | French
1617 East Passyunk Avenue, 215-271-8299
The beurre blanc is perfectly French, but it's made with sake. The venison, fermented plum, juniper and beets sketch a perfect autumn flavor on the plate. What makes Laurel great has never been Nick Elmi's celebrity, exclusivity, or any sort of whiz-bang pyrotechnics from the kitchen, but the fact that Elmi is one of the smartest, most talented chefs in Philly, and Laurel's esoteric, borderless American-Frenchy-Asian menu couldn't have been written by anyone but him.
6. Vetri Cucina
Midtown Village | Italian
1312 Spruce Street, 215-732-3478
It has been the most famous restaurant in Philly for decades, eclipsing newcomers and old favorites alike. But the most remarkable thing about Marc Vetri's eponymous restaurant is that he and the crew still cook like they have something to prove—like every night is the most important service they'll ever have.
7. Res Ipsa
Rittenhouse | Italian
2218 Walnut Street, 267-519-0329
For the neighbors, it's a great little all-day cafe serving coffee and breakfast sandwiches in the morning and wonderfully composed sandwiches for lunch. But six nights a week, Res Ipsa becomes a near-perfect Sicilian BYO, with chef Michael Vincent Ferreri cooking dishes so surprising, beautiful, comforting and refined that even something as simple as spaghetti alle vongole becomes the kind of dish that you dream about for weeks.
Society Hill | Israeli
237 St. James Place, 215-625-8800
Michael Solomonov was just a Philly chef obsessed with duck hearts, hummus, and all the Israeli flavors he thought about when he was dreaming of home. His flagship restaurant earns its place among the best restaurants in the city because he and his crew are always pushing those flavors forward in the cuisine that he single-handedly put on America's culinary map.
Bella Vista | American
604 South Street, 215-925-3001
Even five years in, you'll leave the dining room—where Japanese eggplants are topped with feta and harissa, and enoki mushrooms come out swimming in a pecorino broth with black pepper oil—in awe of Peter Serpico's deep and fundamental understanding of the future of American cuisine.
10. Palizzi Social Club
East Passyunk | Italian
1408 South 12th Street, No Phone
A magical room where the weathering of a hundred years as a private South Philly social club is treated like an earned patina of class and cool—where chef Joey Baldino's interpretations of Italian classics will make you feel like the kitchen is staffed by a dozen nonnas who've been cooking all day just for you.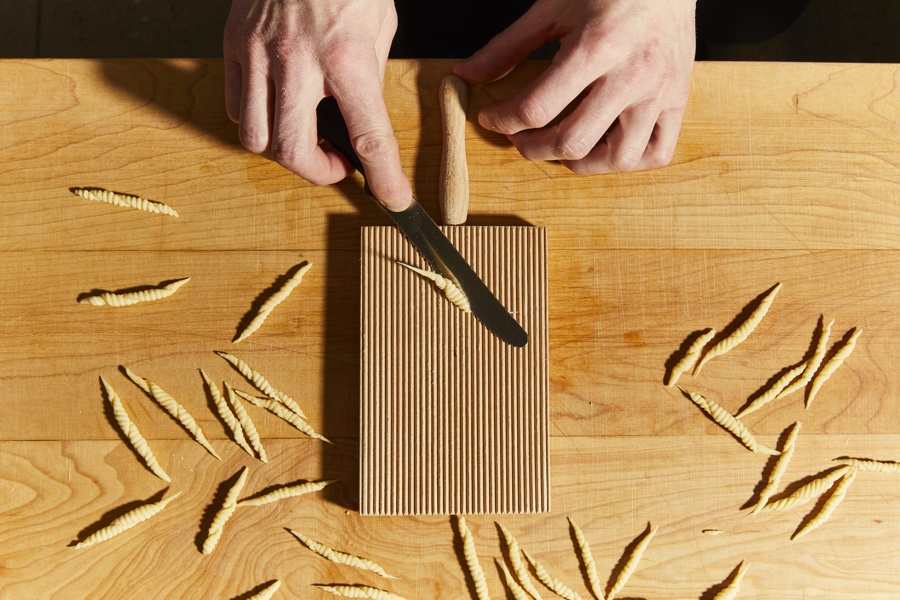 Andiario | Photo by Michael Persico
11. Andiario
West Chester| Italian
106 West Gay Street, 484-887-0919
The pastas might be the best you've ever had, and the seasonal menu is like a matryoshka doll of surprises. Owner Anthony Andiario came here from some of the best kitchens in America and created something that was entirely his—cooking what he loves and sending out every plate like he's signing his name to it.
12. South Philly Barbacoa
Italian Market | Mexican
1140 South 9th Street, 267-746-7658
Bon Appétit, the James Beard Foundation, David Chang and his Ugly Delicious TV crew, Chef's Table—they've all come calling. But Philadelphians loved Cristina Martinez's lamb tacos before they were cool—and before they were rightly named some of the best in the country
Midtown Village | Vegetarian
1221 Locust Street, 215-320-7500
It takes an eye to make a radish look beautiful, but it takes a wicked kind of skill to make it taste good, too. The team at Vedge? They've got both. Their seasonal "Dirt List" menu has always been a laboratory for experimenting with vegetables in different ways, but the straight New American simplicity of charred beets with horseradish or a roasted carrot served with all-carrot accompaniments shows the balance and restraint at work in the kitchen.
14. Royal Izakaya
Queen Village | Japanese
780 South 2nd Street, 267-909-9002
The front room is loud and crowded. There's anime on the walls and crowds at the bar, and servers move fast, slapping down menus and sliding cans of sake and plates of dumplings, natto, and amazing little Japanese sausages across the bar. In the back, Jesse Ito makes omakase flights of sushi as good as any in the country and serves them in an environment that's as quiet and respectful as a temple. Both sides are fun in their own way and work shockingly well together.
Bella Vista | French
1009 South 8th Street, 215-965-8290
If Paris had a neighborhood of displaced Philly expats buried somewhere out in its arrondissements, Bibou—with its charming staff, crowd of regulars, BYO policy, and fine-tuned prix-fixe menus—would be its regular Tuesday-night hang.
16. Abe Fisher
Rittenhouse | Jewish
1623 Sansom Street, 215-867-0088
Tradition vs. modernity, old memories vs. new cravings: Yehuda Sichel cooks a brave, worldly version of Jewish cuisine, full of veal schnitzel tacos and $19 skirt steaks with Manischewitz steak sauce. But what might be most affecting are the simple things, like the way the latkes, dressed in their jumped-up apple and onion sauce, remind you just enough of the ones you had as a kid to make you nostalgic, but are so good that you're forced to wonder how no one thought of doing something like this before.
17. Zeppoli
Collingswood | Italian
618 Collings Avenue, 856-854-2670
Trying Joey Baldino's sautéed shrimp over cannellini beans, his Trapani-style pesto, or stewed rabbit with tomatoes and oregano served over roasted potatoes will teach you how deep and soulful the flavors of Italian simplicity can go.
18. Noord eetcafé
East Passyunk | Northern European
1046 Tasker Street, 267-909-9704
Eating at Noord feels like having dinner in owner (and host) Joncarl Lachman's living room, staffed by a team of friendly servers who seem to be having almost as much fun as the customers. And the Dutch cuisine coming from the kitchen is just as homey and comforting—which is saying something when the menu offers dishes like mustard soup, herring sliders, rabbit legs soaked in vinegar, and something called snert.
Townsend's Cote de Boeuf | Photo by Jason Varney
19. Townsend
East Passyunk| French
1623 East Passyunk Avenue, 267-639-3203
It's a place for grand, expansive French dining—think côte de boeuf for two, plates of escargots dripping in butter, foie gras with grape and hibiscus, roasted fish swimming in a vermouth cream sauce—all served on white tablecloths with heavy silver and a couple martinis or a glass of chenin blanc to wash it down.
Old City | American
306 Market Street, 215-625-9425
Hamachi crudo, scratch-made pastas, Jersey stripers with peppers and clams, rigorously New American menu: A compelling argument could be made that there is no fine-dining restaurant in the city that defines Philly's evolving tastes better than Fork.
21. The Good King Tavern
Bella Vista | French
614 South 7th Street, 215-625-3700
There are very few bad days that can't be fixed by a plate of pommes frites and a roasted chicken dabbed with sauce piment. There's not much that isn't made at least a little sweeter by a warm, welcoming bar serving chicken-fried rabbit and duck-fat potatoes, one where a nice bottle of white burgundy won't empty your wallet. And there's no city that isn't made better by a solidly French tavern like the Good King.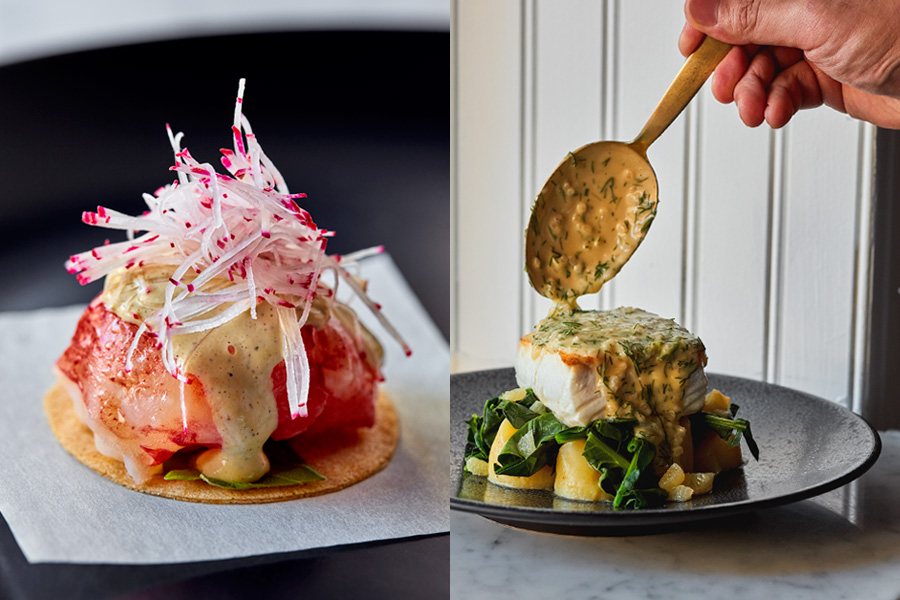 Photo by Jason Varney
22. Little Fish
Queen Village | Seafood
746 South 6th Street, 267-455-0172
The menu is so small and so changeable that the crew hand-writes it every night on little slips of paper. And chef Alex Yoon's kitchen is so talented that every menu reads like a treasure map to some of the best, most thoughtful seafood in the city.
23. Royal Boucherie
Old City | French
52 South 2nd Street, (267) 606-6313
Those who believe that French food is supposed to be serious should stay far away from Nick Elmi's Old City boucherie. The cocktails are American classics, the charcuterie is all made in-house, the bar is always rollicking and loud, and the menu—from the lobster garganelli with truffle butter to roasted duck confit with sour cherry mustard to late-night shrimp cocktails or fried olives stuffed with pork—walks a perfect line between French technique and casual fun.
24. Hardena
Point Breeze | Indonesian
1754 South Hicks Street, 215-271-9442
There are basically two kinds of eaters left in Philly: those who think that a delicious, absolutely authentic Indonesian cafe tucked away in South Philly and serving cafeteria-style beef rendang, egg curry, chicken satay and killer sambal mostly in Styrofoam has no business being on a list of the best restaurants in the city, and everyone else, who believes (correctly) that no good list would be complete without it.
Middle Child | Photo by Michael Persico
25. Middle Child
Washington Square West | Luncheonette
248 South 11th Street, 267-930-8344
It looks so simple when you're there—just a neighborhood luncheonette with a long counter and some cooks at the grills slinging the hash and slapping together sandwiches for their regulars. But Middle Child is deceptive. They make their own ciabatta. The corned beef takes nine days. There are no freezers, so they serve until they sell out, then start over again the next day. The result is a breakfast and lunch spot designed like the Six Million Dollar Man—to be stronger, faster and better than all those that came before.
26. Cadence
Kensington | Modern American
161 West Girard Avenue, 215-419-7537
Some restaurants are flashy about their genius, sending out every plate like it's covered in sparklers and gold. Cadence is the other kind: a quietly competent, always evolving, gently brilliant BYO where the herb dumplings with mustard butter and the trout with blistered peppers and brown rice grits speak for themselves—no flash necessary.
27. Saté Kampar
East Passyunk | Malaysian
1837 East Passyunk Avenue, 267-324-3860
When it first opened, Ange Branca's Malaysian restaurant was the coolest place in Philly—a restaurant where every bowl of ayam kurma and every stick of saté was a wonderful surprise. You could drink from coconuts here, get coffee unlike any other in the city, eat rice and sambal with your fingers. And somehow, after almost three years, none of that initial magic has worn off. Saté Kampar has become a place that Philly craves rather than wonders about.
28. Hearthside
Collingswood | New American
801 Haddon Avenue, Collingswood, NJ, 856-240-1164
It has all the requisite makings of a good modern American restaurant: the open kitchen, the blazing wood hearth, the mod-rustic aesthetic. But sit down for dinner, and what will surprise you is the care and creativity coming from the kitchen. The pastas are smart (like the agnolotti stuffed with smoked carrot puree). And the entrées are paired with a rare eye for counterpoint flavors, like pork and tasso ham with sweet plum mustard, or halibut in a woodsy mushroom broth.
29. Double Knot
Midtown Village | Japanese
120 South 13th Street, 215-631-3868
It's less a restaurant than it is an escape from the world—where you go to eat black bass and robatayaki and lovely, lovely sushi in one of the most stunning subterranean dining rooms in all of Philly.
30. Helm Rittenhouse
Rittenhouse | New American
1901 Chestnut Street, 215-982-1671
The original Helm was a nearly perfect example of Philly's neighborhood-BYO culture—all chalkboard menus and vinyl on the turntable. This new incarnation keeps everything that was good about the original (the local sourcing, the carefully curated New American menu and welcoming vibe) and transfers it to a more grown-up space with a bar program that's just as good as what's coming out of the kitchen.
Kamayan dinner at Perla | Photo by Jason Varney
East Passyunk | Filipino
1535 South 11th Street, 267-273-0008
Filipino food wasn't something anyone ever thought of when talking about Philly's booming food scene. But that was before Perla opened and brought with it Lou Boquila's sisig with long hots, bone marrow garlic fried rice, and Wednesday-night Kamayan family-style dinners where you eat with your hands off tables covered in banana leaves.
32. Stock Rittenhouse
Rittenhouse | Southeast Asian
1935 Chestnut Street, 215-988-9480
There's something revolutionary about the new Stock. It's built on a fast-casual model, with a modular menu of Asian soups, salad, cold noodles and banh mi served fast to the crowds that pack in every day. The quality is just as high as at the Fishtown original, but the feel (and utility) is so 2019.
33. Southwark
Queen Village | New American
701 South 4th Street, 267-930-8538
Pumpkin ravioli with duck confit, raisins and hazelnuts. Sweet-potato bisque served with a short-rib croquette. Even just the house-baked bread with a little butter, a little sea salt, a slice of radish and nothing else—who needs more than that from a neighborhood restaurant these days?
34. Kensington Quarters
Fishtown | American
1310 Frankford Avenue, 267-314-5086
KQ has been a restaurant, a custom butcher shop, a teaching space, a place for pop-ups and collaborations. But no matter what it is they're doing here, the one constant is that being a restaurant is what the place does best—showcasing local meat and vegetables for crowds that always seem to stay a little longer than they intended and have a little more fun than they expected.
The Love | Photo by Michael Persico
35. The Love
Rittenhouse | American
130 South 18th Street, 215-433-1555
Sure, the service is perfect, the cocktails are excellent, and the cheese plates are like something pulled right from a magazine centerfold. But the cooking here is comforting, smart, approachable, delicious, and very much in the eclectic style of Aimee Olexy, someone who knows full well how to make a restaurant … well, lovable.
36. Cheu Fishtown
Fishtown| Asian
1416 Frankford Avenue, 267-758-2269
Cheu's greatest gift to this city has always been the seriousness it paid to Asian-fusion cuisine. What had been a joke for far too long was given new legs thanks to the humor and intellectual rigor of Ben Puchowitz and Shawn Darragh. And with the opening of this newer, larger version in Fishtown, they can now bring their vision (which includes pastrami buns and chicken ho fun with tahini) to an even wider audience.
Center City | American
1521 Spruce Street, 215-546-1521
Farm-to-table cooking may have started as a trend, but it quickly became a revolution inside the American culinary world. Here at Russet (one of the city's early adopters and truest avatars), it has surpassed any notion of fad or trend and become nothing other than timeless.
38. Blue Corn
Bella Vista | Mexican
1940 South 9th Street, 215-925-1010
Fans come to Blue Corn looking for an authentic taste of Mexico City-style Mexican food. But there's another side of the menu, too—one filled with original creations from chef Roberto Juarez, flaunting food that's both steeped in tradition and vital enough to showcase something new.
39. Le Virtù
East Passyunk | Italian
1927 East Passyunk Avenue, 215-271-5626
It is still and will always be a restaurant dedicated to the flavors and the history of Italy's Abruzzo region—and one of the most authentic and skilled purveyors of it.
40. Rangoon
Chinatown | Burmese
112 North 9th Street, 215-829-8939
For more than 25 years, people have been coming here for thousand-layer bread with potato curry, mango chicken, fish cooked in banana leaves, and other specialties of Burmese cuisine. Here's to 25 more.
East Passyunk | French
1911 East Passyunk Avenue, East Passyunk, 215-271-7683
At one point, Will was a temple to modernist techniques, tweezered garnishes, and mad-scientist geekery. It mellowed over time, opening itself up to the comforts of more approachable French flavors. Today, Chris Kearse still makes some of the most beautiful plates in the city, but Will has become a restaurant where the art and craft of cooking have found a near-perfect balance.
42. Oyster House
Center City | Seafood
1516 Sansom Street, 215-567-7683
Coming in for a drink, a lobster roll, and a half-dozen oysters from the shuckers is like paying tribute to Philadelphia's long history with seafood in general and bivalves in particular. But go deeper into the menu, and you'll find unexpected depth from a kitchen that can knock out anything from snapper soup to a filet of striped bass worthy of the whole city's admiration.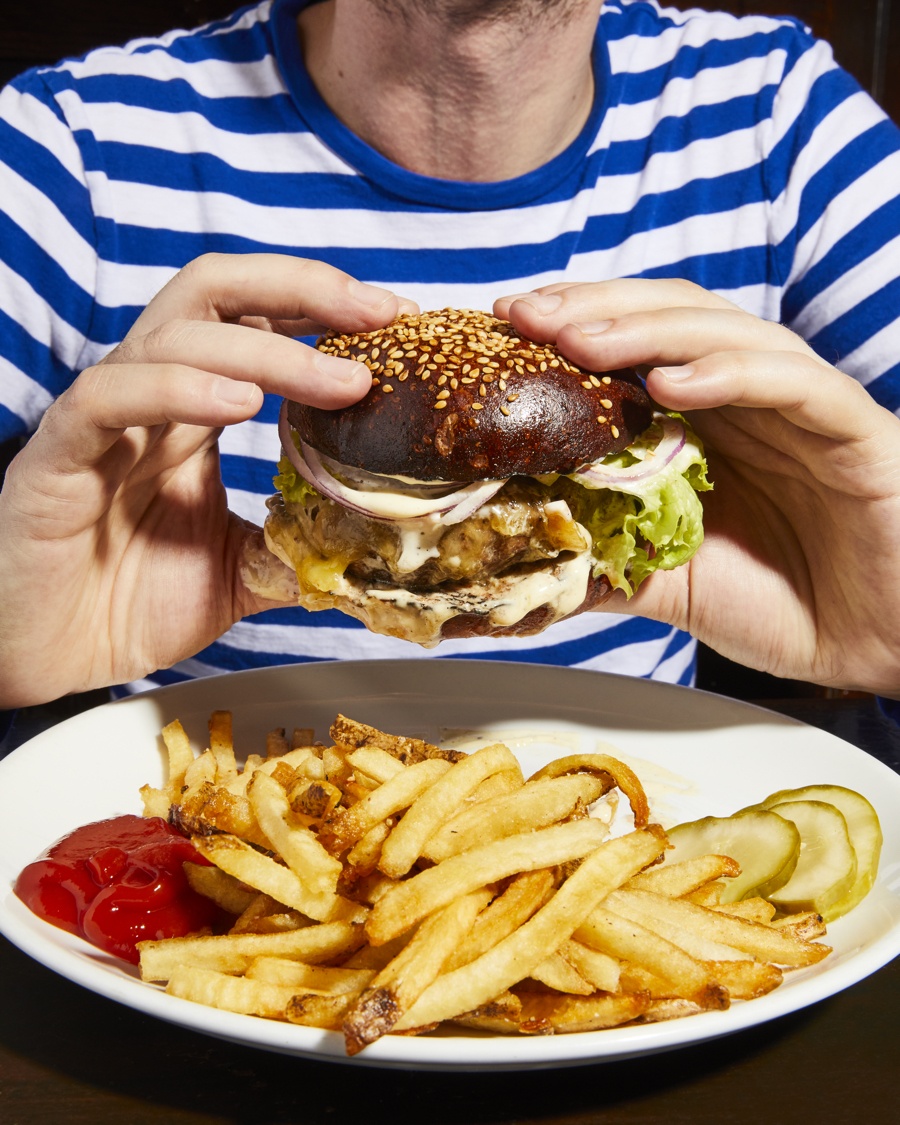 Standard Tap | Photo by Michael Persico
43. Standard Tap
Northern Liberties | American
901 North 2nd Street, 215-238-0630
There was a time when the gastropub was king—the only kind of restaurant that mattered in Philly, defined by good beer, a serious chef in the kitchen, fun snacks on the menu and a casual vibe. Our city did all this better than almost any other city out there—and thankfully, here, that time never really ended.
44. Wm. Mulherin's Sons
Fishtown | Italian
1355 North Front Street, 215-291-1355
The space is gorgeous; the bar program is as smart as it is diverse; the kitchen (powered almost exclusively by wood and fire) rolls handmade pastas and slings pizzas as good as almost any in the city. Every single thing here is executed with tenacity and intention, which is precisely why it remains one of the best Italian restaurants in Philly.
45. Poi Dog
Rittenhouse | Hawaiian
102 South 21st Street, 215-279-7015
Between the massive plate lunches and the ukulele music, Okinawan doughnuts, Spam musubi and poke bowls, it's amazing that every single person who eats here doesn't immediately move to Hawaii.
46. Kanella Grill
Washington Square West | Cypriot-Greek
1001 Spruce Street, 267-928-2085
It's remarkable that a place this small and simple, with a menu that's basically meat on sticks plus some salads, can be this addictive. Go once for pork loin kebabs, some lamb kofta, and maybe some potato salad sparked with coriander and capers, and you'll want to come back once a week for the rest of your life.
47. Mr. Martino's Trattoria
East Passyunk | Italian
1646 East Passyunk Avenue, 215-755-0663
With its dim lights and dark wood, old bills, family photos, and menu full of saucy risotto, baked ricotta, and spaghetti with calamari, Mr. Martino's isn't so much a time-travel machine as one that has—blissfully—made time stop.
48. The Rooster
Rittenhouse | American
1526 Sansom Street, 215-454-6939
When Rooster Soup Co. rebranded over the summer as the Rooster, it went from a kinda-eclectic American diner to a straight-up Jewish deli—that still sells a lot of soup. But other than the menu, nothing changed. There are still late-night karaoke parties, there's still a charitable component, and you can still get an excellent dirty martini at the bar.
49. High Street on Market
Old City | American
308 Market Street, 215-625-0988
For breakfast, fresh bread from the bakery with cultured butter and sea salt. At lunch, a smoked duck Cuban or the Best Grilled Cheese Ever, with Pennsylvania cheddar on roasted potato bread. And then, at dinner, something simple, like poached pears with Birchrun blue cheese, or maybe the ricotta gnocchi with smoked delicata squash. There are a hundred different ways to go at High Street on Market, which is how the best all-day cafes roll.
50. Marigold Kitchen
University City | New Nordic
501 South 45th Street, 215-222-3699
Marigold does its own thing—a dozen courses of unapologetically avant-garde plates, prix-fixe only, sometimes indescribably beautiful and chosen from a menu that rotates both by season and at the whim of the kitchen. It's an odd restaurant but also an amazing one, and the only thing anyone can ever say about it for sure is that there's no other dinner to be had in Philly that's anything like the one you'll get at Marigold.

*******
SOURCE: